This page called "Featured Weddings" has come about because a wedding magazine that I have advertised with since the very first issue, was too busy to feature this wedding for some time and even then could not guarentee to publish this wedding.
The first wedding to be featured here took place at St Mary's Church, Great Baddow, Essex on Saturday 19th July 2008.
The bride (Lucy) keeps her horses at Danbury Park Farm, where I have my business unit for Richard Palmer Toastmaster, Classic Nomad Disco and Light Show Experience and the main Headquarters for The English Toastmasters Association. That is how I met Lucy and how I eventually came to look after both Lucy and Steve on their wedding day.
I have a great admiration for the providers of the services for Lucy and Steve's wedding and there is an interesting story to tell, which may help other brides when planning their weddings.
When Lucy first approached me about her weddding, she was stressed. She had been talking to friends who thought that she did not have enough time to get a venue and the services that she would need to make sure that she was going to get the day of her dreams.
My first thought was to reassure her that there was plenty of time for planning her wedding and to offer the best professional advice to help her have her day.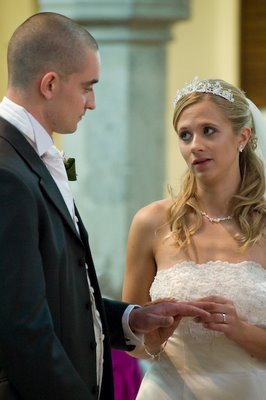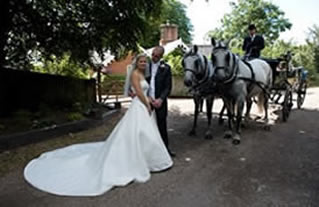 First a piece of blog from the Court On Camera web site written by my good friend David Court who takes the most wonderful wedding photographs.
Tuesday, 22 July 2008 Lucy and Steve's Wedding Photographs - St Mary's Church Great Baddow , Furze Hill and Ivy Hill

"On Saturday I had the great honour and pleasure to be invited to photograph Lucy and Steve's wedding at St Mary's Church Great Baddow. The reception being held afterwards at Furze Hill and Ivy Hill Margaretting.

Lucy has a great love of horses, and what better way to arrive and leave the church than in a carriage drawn by two greys provided by Heritage Horse Drawn Carriage Masters.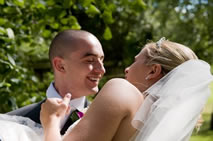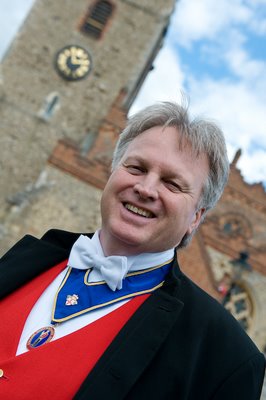 As is fitting Lucy got carried away.........
My good friend Richard Palmer was the Toastmaster for the day - as well as providing the evening's entertainment with the Classic Nomad Disco.
Richard is also a family friend of Lucy, whose horses are stabled next to Richard's Office, and whose family home he passes every day.
Absolutely no pressure then on me as an Essex Wedding Photographer, having been recommended by one of the country's top Toastmasters, to photograph a friends wedding at Furze Hill and Ivy Hill in his presence!
Label: Esses Wedding Photographer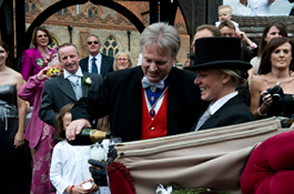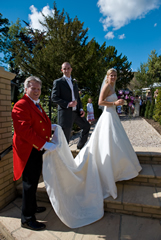 A lovely thank you letter from Lucy and Steve relating to their wedding shown above at St Mary's Church, Great Baddow and reception at the Ivy Hill Hotel, Margaretting on Saturday 19th July 2008
Dear Richard, Well what can we say! First we would like to say a massive thank you. The help and support you gave to me and Steve was unbelievable.
We couldn't have done it without you. As a friend to us you were amazing. As a professional you were brilliant. The service you provided gave the best day ever.
Everyone you recommended to us played a big part in the smooth running of the day, which made our day what it was. THE BEST DAY EVER!!!
Thank you again for all your hard work.
Love Mr and Mrs Webb xxx
I will be featuring this wedding in my new featured weddings section on this web site
http://www.thetoastmaster.co.uk/featured_weddings.php and also at www.thedisco.co.uk , www.essexweddingprofessionals.co.uk , and www.englishtoastmasters.co.uk .